The Whaley Waltz Fell Race
Next Event: June 25th 2022.
New for 2022
Due to the Whaley Bridge carnival not taking place, this year's event will have a new start. The race will still be a similar distance (5.6 miles) but as a bonus you will now get an additional 100m of ascent (396m total) free of charge! The race will start at 1-15pm on the Linear Park (what3words ///hairstyle.worms.blog or OS SK 0113 8078) and the route map has been updated.
Registration and the finish
will take place at Whaley Bridge Bowling Club (43 Buxton Road, SK23 7HX), approximately 5 minutes walk from the start.
We are still finalising details of the river crossing near the finish, don't worry though, there will still be one!
In 2019, This race race raised a total of £915 for the Thomas Theyer Foundation. Details can be found HERE
We also made a donation of £242 to Whaley Bridge Rose Queen Carnival
Further Details: Mark Ruston, 77 Buxton Road, Whaley Bridge, High Peak, SK23 7HX; Tel: 07803 123058
To contact the Waltz Race Director Click/Tap:- HERE
2022 Results results
Previous Years Results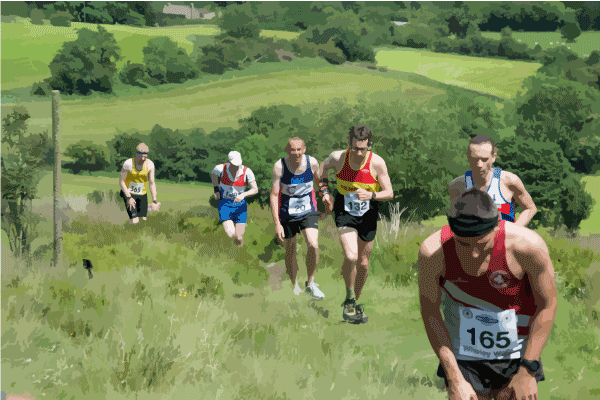 Whaley Waltz Photograph on our Flikr Page can be found:- HERE
(Feel free to add any more to this group you may have)
A Map of the full Route can be found Here:- MAP
Full Course Records: Men - Steve Vernon 35:21 (2017) Women - O Walwyn Bush 42:26 (2012)
Enter
For the 2022 RACE
Entry is £8 plus booking fee.

To see the start list also Click the nifty link:-