The Whaley Waltz Fell Race
Next Event: Saturday 29th June 2019
WHALEY WALTZ FELL RACE Category: BS. PM. Over 16s only. Start time is approximately 1.10 p.m after the carnival parade. It is 5.8m and with an elevation of 899' from Whaley Bridge Town Centre (GR 012811, OL1). This race starts as part of the annual Whaley Bridge Rose Queen Carnival Parade.
In 2018, This race race raised a total of £1,006 for the thomas Theyer Foundation. Details can be found HERE
Further Details: Mary Jones, 15 Eccles Close, Whaley Bridge, High Peak, SK23 7RS; Tel: 01663 719518
To contact the Waltz Race Director Click/Tap:- HERE
2018 Results Provisional results for 2018 HERE Team Results HERE
Previous Years Results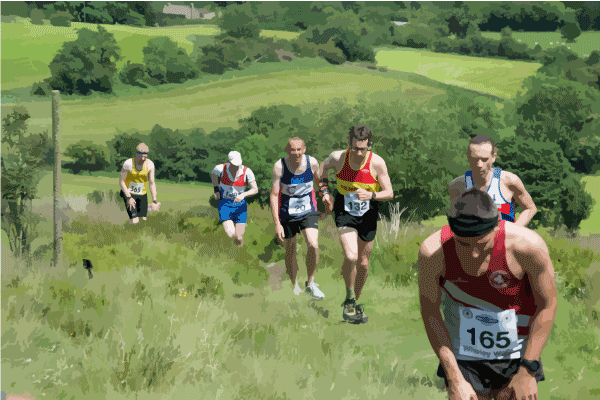 Whaley Waltz Photographs (UPDATED for 2018) on our Flikr Page can be found:- HERE
A Map of the Route can be found Here:- MAP
Course Records: Men - Steve Vernon 35:21 (2017) Women - O Walwyn Bush 42:26 (2012)
Enter
On-line Entry - Will open at some point please check back (details below are for 2018)
Entry Via Crazy Legs events: Click below:-

List of online entries so far (up to 29/06/):- HERE
On-the Day Entry:- Usually AVAILABLE --- price £8
Last registration: 12.50 p.m.
On The Day Entry/Registrations On the day MAY be availble subject to the race limit not being reached beforehand. Race registration from 11:00am. Registration, registration venue:- Whaley Bridge Uniting Church Hall. (between the finish and the race start on the main road close to the railway bridge) (Please allow plenty of time to register as it is carnival day we will get very busy.) Address: 35a Buxton Rd, Whaley Bridge, High Peak SK23 7HT. The Race start is a short distance away in the centre of the town outside the Railway Pub.
Note:- Road access to Whaley Bridge is closed at 1 p.m. for the Carnival Parade. (Parking may be restricted in places, especially on-street on certain roads due to the carnival parade. Please allow extra time to find places to park and remember to park responsibly... some people haven't in the past!)