The Whaley Waltz Fell Race
NEW for 2021 VIRTUAL WHALEY WALTZ
June 26th to July 31st
Sadly, we have had to postpone the Whaley Waltz for two consecutive years due to the ongoing Covid restrictions. However, this year we have decided to use some of that new-fangled technology to bring you the all-new Virtual Whaley Waltz. This race will be via Maprun and follows the bulk of the original race route up to Windgather rocks and back down via Taxal Edge; the only exceptions being the initial road section (a tad too many cars without the carnival closing the road) and the river crossing (although you can still jump in at the end if you need a refreshing dip). We will be awarding prizes for the fastest runner in each category (in 10 year age bands) as well as team prizes. To reduce pressure on the landowners, who have always been very supportive of the race, please try and limit yourself to one attempt at the route; we will use your first attempt when collating the results anyway. As with the Waltz itself, all proceeds will go to the Thomas Theyer Foundation. This is a wonderful local charity that supports children with additional needs and their families. Check out what they do here Entry is just £3.50 plus booking fee and we are giving you 5 weeks to complete your run; the race goes live on 26th June, which would have been race day in an alternate reality, and closes on 31st July. The route map is fully detailed on the Maprun app (we found Maprun6 worked best), so you shouldn't have worries about getting lost. Please note, however, that as this is a virtual race there will be no marshals or any other support available.
Instructions for Virtual Race
Firstly Download Maprun 6 to your Smart Phone or Device.
On the App go to "Select Event" UK/Derbyshire/Goyt Valley/Whaley Waltz
See Map and description link on this page.
Go to the Start location in Whaley Bridge Memorial Park. This is the bridge over Todd brook near the dam (yes that one) and the children's playground. Press start as you approach the bridge. When promoted enter the PIN code you were sent when you entered the event.Your phone or device will "ping" indicated you have started. Finish is in the same location.
There are 10 control points along the route. These must be passed in order.
Note:- The accuracy of the time etc is down to gps satellite tracking ensure you keep your device in a position so you have a good signal, also make sure you device "pings" at the intermediate control locations.
Next Live Event: June 25th 2022. (Fingers crossed)
WHALEY WALTZ FELL RACE FRA Category: BS. PM. Over 16s only. Start time is approximately 1.10 p.m after the carnival parade. It is 5.8m and with an elevation of 899' from Whaley Bridge Town Centre (GR 012811, OL1). This race starts as part of the annual Whaley Bridge Rose Queen Carnival Parade.
In 2019, This race race raised a total of £915 for the thomas Theyer Foundation. Details can be found HERE
We also made a donation of £242 to Whaley Bridge Rose Queen Carnival
Further Details: Mark Ruston, 77 Buxton Road, Whaley Bridge, High Peak, SK23 7HX; Tel: 07803 123058
To contact the Waltz Race Director Click/Tap:- HERE
2019 Results HERE And Team results HERE
Previous Years Results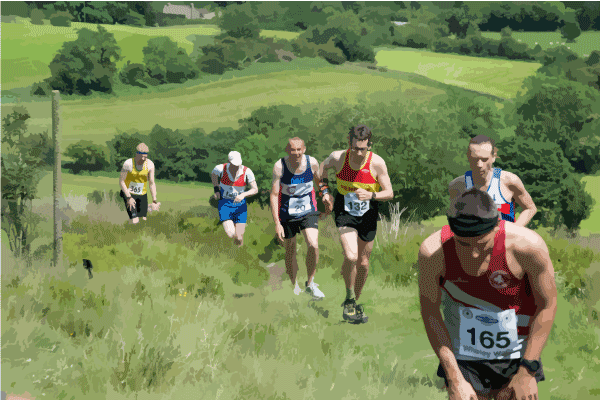 Whaley Waltz Photograph on our Flikr Page can be found:- HERE
(Feel free to add any more to this group you may have)
A Map of the full Route can be found Here:- MAP
Virtual route map
is
Full Course Records: Men - Steve Vernon 35:21 (2017) Women - O Walwyn Bush 42:26 (2012)